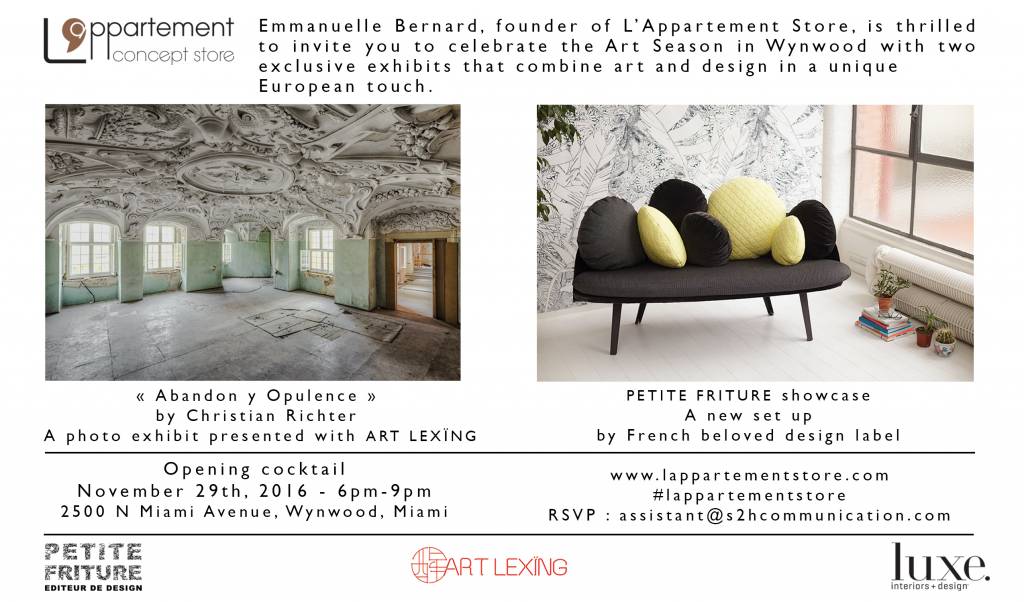 2 shows to celebrate the Art Basel season with a European touch.

Art
"Abandon y Opulence" by German photographer Christian Richter, presented with ART LEXÏNG

Design
A first American showcase with PETITE FRITURE, a French beloved label

-- Opening cocktail on November 29th, 2016 --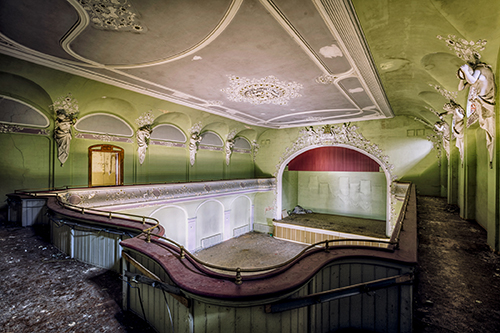 As a kick off to the Art Basel season, Emmanuelle Bernard, founder of L'Appartement Store, has brought together two unique exhibits into her Wynwood space.

Explore "Abandon y Opulence", by Christian Richter, presented with ART LEXÏNG. Richter is a German photographer who has developed a certain fondness for derelict buildings, some of which could have been listed and preserved as cultural heritage sites, but which had fallen into irreversible disrepair. His solo show will explore the test of time and its impact on its surroundings. Richter's careful eye captures a moment in time and gives you a window to the history and present story of its location.

But wouldn't art be lonely without a beautiful place to live with it everyday ?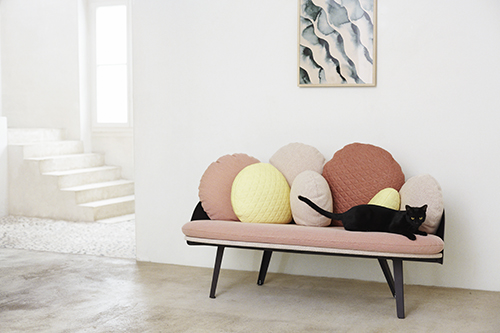 As an answer to Richter's urban landscapes and buildings, Bernard invites one of her favorite French design labels for a special showcase : PETITE FRITURE.
With unique pieces that range from lamps to mirrors to everything in between, PETITE FRITURE pride themselves in creating products that are beautiful, light and delicate with hedgy designers. Among the best seller you already know Vertigo, a stunning fixture designed by French acclaimed Constance Guisset. Good news is PETITE FRITURE brings for this first American showcase a lot of other new products to discover by designers that have been praised internationally such as Sam Baron, Noe Duchaufour Lawrence and India Mahdavi.

So whether you seek to explore past or present; these two exhibits are sure to capture your interest and expose you to a whole new light both figuratively and physically. To celebrate the art season, Bernard shows that a home finds its balance and happiness when art and furniture are aligned in the same creative mindset.
About- PETITE FRITURE
Design editor created in 2009, it was born with the will to promote young talents, and to develop with them a catalogue of objects, lighting and small furniture that creates a vibration. The result is elegant and accessible objects that in a simple and uninhibited manner tell a story; objects that understand our daily life and invite us to savor it.
http://www.petitefriture.com/eng/1/home

About- ART LEXÏNG
It is located in the burgeoning design community Miami Ironside, in the historical Upper Eastside neighborhood. Since its founding at the end of 2010, ART LEXÏNG has quickly established itself at the forefront of contemporary Chinese art through the vision and direction of Lexing Zhang. In her role as owner and director, Lexing is responsible for editing the ART LEXÏNG's innovative gallery programming and developing partnerships with institutions galleries throughout the United States and Europe. ART LEXÏNG is committed to promoting museum-quality works from emerging artists, each with truly original and challenging perspectives filtered through photography, sculpture and traditional two-dimensional media. The gallery is proud to represent young artists with sophisticated, international backgrounds and diverse sources of aesthetic dialogue.
http://www.artlexing.com